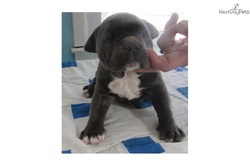 Welcome To Our Site! We Are A Well Established American Pitbull Terrier Kennel That Has Been Breeding Fantastic American Pitbull Bloodlines Since 2004.


We Operate And Breed American Pitbull Terriers For The Size,Stamina And Condition As Noted In The UKC Standards And Guidelines.Our Pitbull Breeding Also Focuses Largely On Socialization As Well As Discipline.Our Dogs Are Part Of Our Family And We Hold Strict On The Homes That Our Puppies Are Sold To.



With So Many Years In,You Can Be Assured That We Are Quite Knowledgeable About The American Pitbull Terrier Breed. These Dogs Make Excellent Additions To The Family.



Feel Free To Browse And Please Do Not Hesitate To Contact Us Via Email Or Phone(434.334.0694) With Any Questions.
---